Tempo Live were approached by Tea&Cake PR on behalf of Alcatel OneTouch to create a fun activation for Magic Weekend hosted by the RFL at the Sports Direct Arena in Newcastle.
With 45,000 rugby fans in attendance we wanted to create a fun and entertaining activation that would increase the awareness of Alcatel OneTouch and get the consumers involved.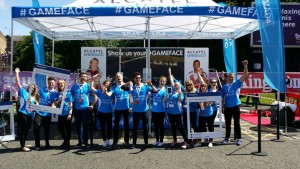 We created the #GAMEFACE Dive In Foam Pit.
An 8mx4m structure that allowed consumers to jump off a platform with a rugby ball in hand, in to the foam pit against our rugby pitch back drop.
We had a photography team on hand to capture the moment and within 30 seconds of the consumer diving in, they would walk away with a branded photograph to mark the occasion.
We branded the event '#GAMEFACE' and wanted to see the consumers best game faces whilst they jumped in to the foam pit to score a TRY.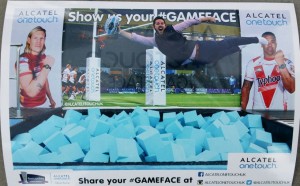 With queues of people wanting to participate in our activation throughout the day we were able to achieve a turnover of 1 person per 60 seconds giving us a total of 719 consumers across the weekend. We then uploaded the photos to the Alcatel OneTouch facebook page where the participants could share their images with friends.
Tempo Live produced the structure and branding of the foam pit, marquee and flags, provided the photography team, activation team and merchandise team who were giving away branded banners, stickers and visors.