Bringing Arabian Street performance to the consumer.
One of our favourite campaigns that we produced this year was for a well-known online shopping brand. We took our specialty skilled performers on a three week tour starting in Birmingham and ending in Glasgow. The theme was an Arabian market so we put together our most authentic performers for this event.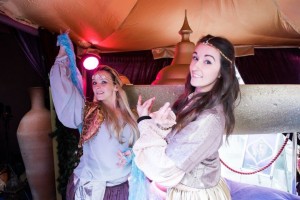 We provided 2 Belly Dancers, a Sword Dancer and a Hula Hoop Artist. Our performers drew in the crowds and encouraged them to take photos and get involved with the brands activity.
Despite the cold 10 hour days the performers worked tremendously well in costumes best suited for the warm climate of the Far East. Tevec, our sword dancer, acclaimed that so many consumers wanted to know how she managed to balance a sword on her head without it falling off.
Post event our client said that, "The performers were once again fabulous and professional. There is a smile to be found in every single picture I have seen of the weekend's activity featuring both Sofia and Tevec. I also gather that the increased regularity of the prize-giving provided an opportunity for (their) further involvement which I think is great as they really do enhance the whole vibe of the activity."
We were overwhelmed with the response from the event, consumers at each of the activations had tweeted pictures of our performers with the promotional hashtag saying how talented they were.
For us, it was a highly successful activation and the performers really encouraged consumer interaction with the brand.